This essay gives insights on:
· Why radiologists need to improve the way they access past exam results
· What INFINITT Enterprise Search offers as a report search solution
① Real-time data search
② Accurate data search
③ Integrated access to pathology results
④ Custom data classification & export
⑤ High interoperability
The digital transformation of the medical industry is gaining momentum as an increasing number of facilities around the world are digitalizing and integrating previously disseminated departmental data into medical big data. Being that radiology was the first of all medical specialties to start digitalizing its data and workflow, radiologists stand at the forefront of this movement in terms of both the size of accumulated data and the ability to make use of those data.
Radiologists often refer to past reports, images from similar cases or even pathology results when reading current exams, but it's quite difficult and time-consuming for them to access and utilize the right data at the right time. This is because there is a long process of putting in the requests for whichever data they need, waiting for response, and re-organizing the dataset they receive from the data management team. There are simply too many steps to take before they could finally use the data for their initial purpose. In addition to that, radiology data is increasingly being used not only for reference but also for research, education and evaluation purposes—which means there is a growing need for an easier and faster way to make use of these data.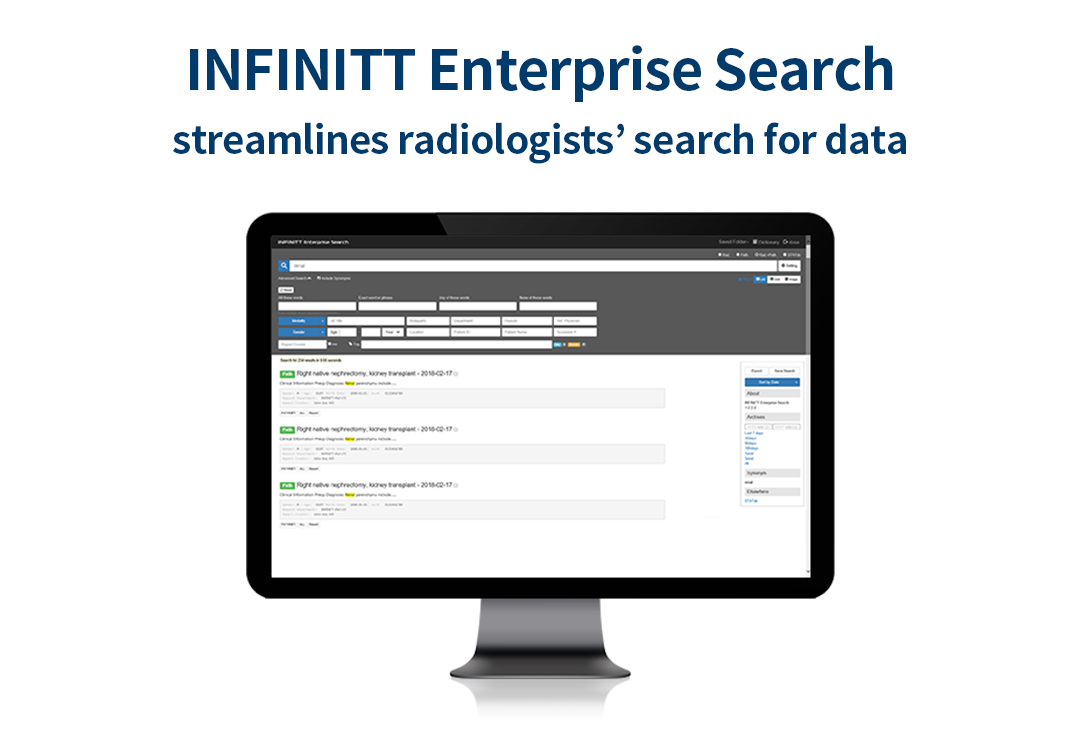 What if there is a way to streamline radiologists' search for data?
INFINITT Healthcare's report search solution, INFINITT Enterprise Search, enables radiologists to easily and quickly access the specific set of data they need amongst volumes of past studies and reports. So that, whether it'd be for reading, research, teaching or evaluation, they can focus more of their resources on what matters the most, without having to take numerous steps to collect, classify and export the data.
Now, let's delve a little deeper into how INFINITT Enterprise Search works and what radiologists can do with it.
① Real-time data search
Find the data you need
within seconds
Radiologists can access the images and reports they need through ① direct search on PACS or ② putting in requests to the data management team. Attempting to obtain past reports directly from PACS could overload and slow down the system, so most radiologists end up putting in the requests for whichever data they need. However, it's a very time-consuming process overall because the data management team must avoid overloading the system during the working hours as well. Even after receiving the requested data from the data management team, radiologists still have to re-organize and re-categorize the dataset to suit their specific needs. As a result, it can take up to 3 days at least and up to a month at most before they can finally make use of the data.
With INFINITT Enterprise Search, the whole process of data acquisition shortens down to a couple of seconds*. Radiologists can simply search up the data in real time just like they would when searching on the Internet. How is this possible? The secret lies in its system structure. While INFINITT Enterprise Search searches through the PACS database, it operates on a search engine designed to run independently from PACS, thus causing no system overload at all. It's also equipped with high speed processing technology required for processing large volumes of unstructured data like medical images. In the end, radiologists are able to locate whichever data they need in real time and refer to it right way while reading current exams or even during conferences and lectures.
*Less than 1~2 seconds on average; may vary depending on server environments.
② Accurate data search
Refine the search
with detailed search filters
Why do most radiologists end up having to re-organize the data they receive from the data management team? In a lot of the cases, it's because the dataset does not meet the requested criteria.
Accuracy is vital when it comes to searching specific type of medical data. So being able to quickly narrow down the search results saves a lot of time and effort for busy radiologists at work. In that sense, INFINITT Enterprise Search enables radiologists to refine their search by setting up detailed search conditions according to their needs.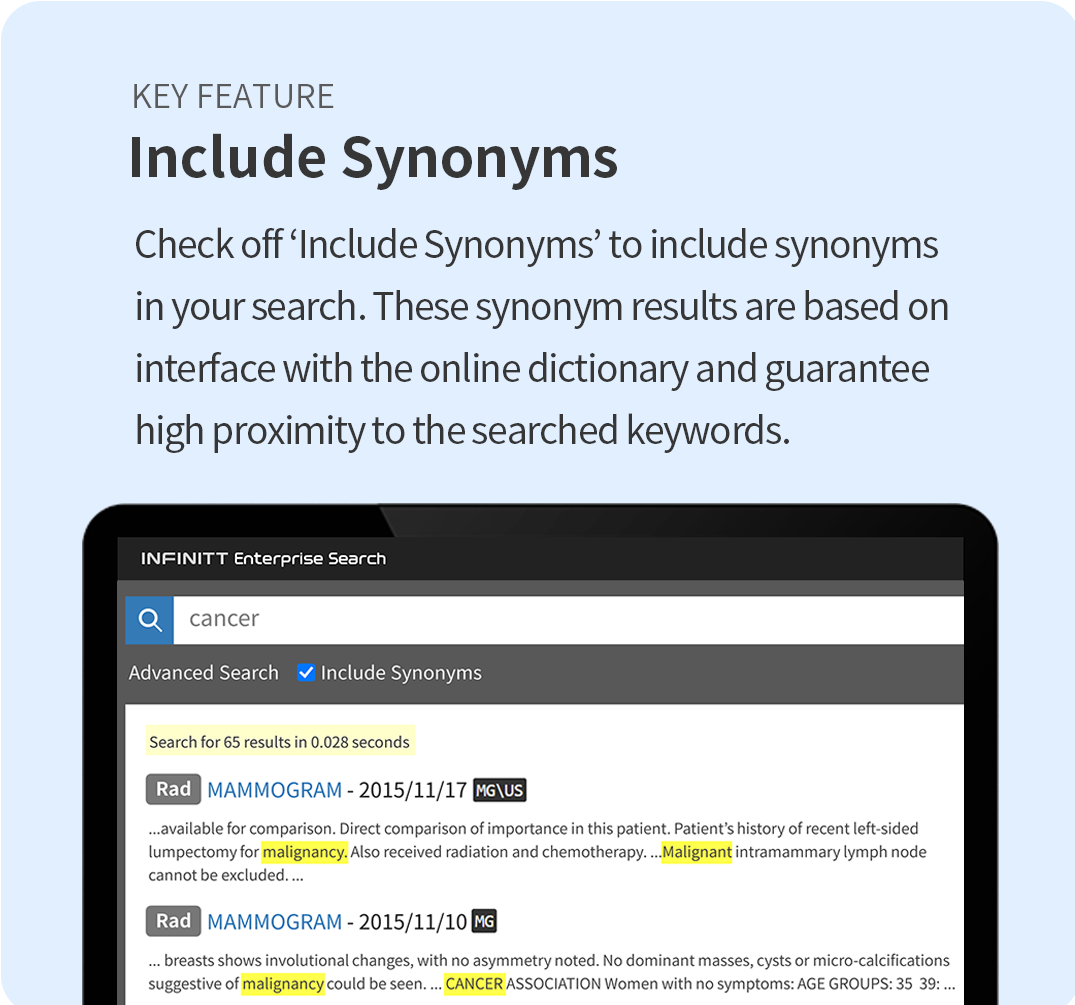 ③ Integrated access to pathology results
Refer to pathology results
for radiology interpretations & research
Quite often, radiologists would refer to pathology results for double-checking their own interpretations or for research purposes. The problem was that it had to be done manually. They would open up PACS and EMR side by side and check each patient ID from PACS while searching up each patient's pathology results on EMR. But now with INFINITT Enterprise Search, it's become much easier because they can search and access both radiology and pathology results simultaneously.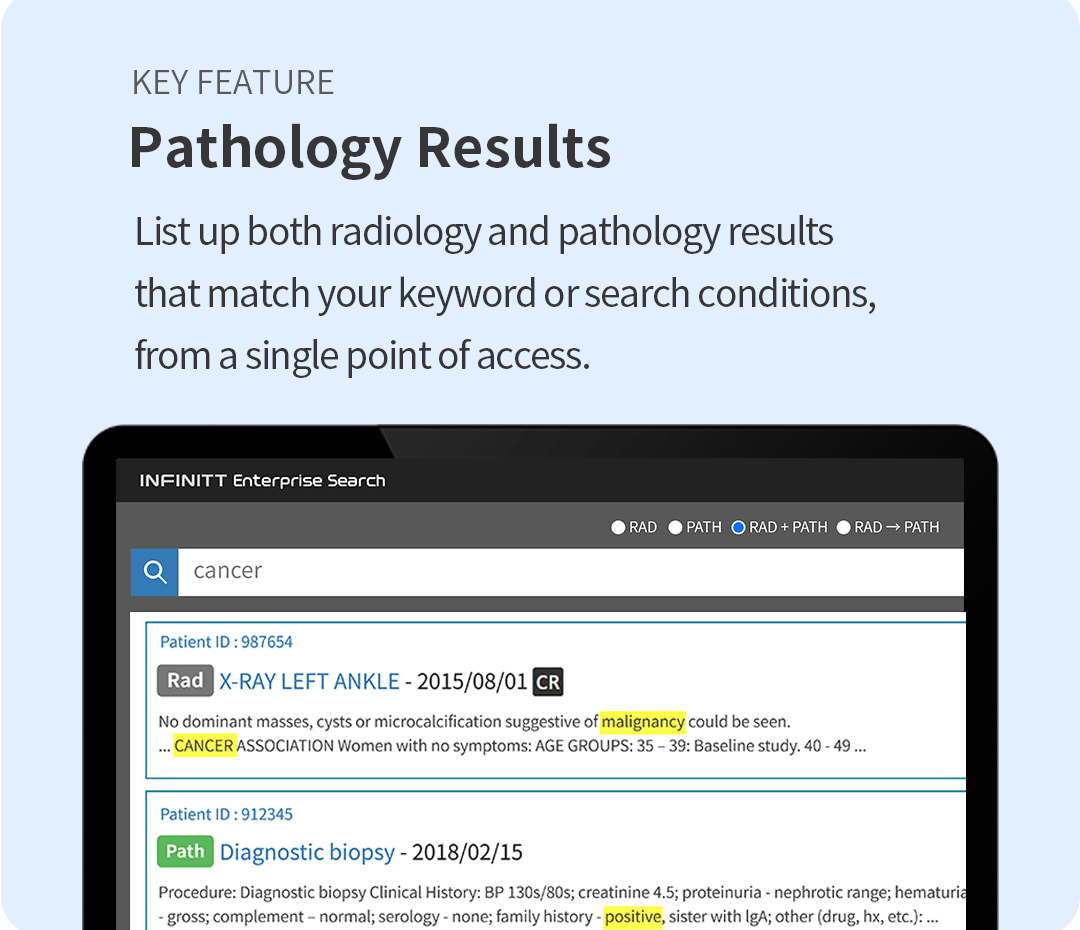 ④ Custom data classification & export
Process your own dataset
for research or evaluation
With growing interests in medical imaging AI, radiologists were putting in a lot of resources into classifying and exporting research datasets fit for machine learning. Aside from research, carrying out lectures, hospital evaluations and even reimbursements required a tedious process of manually searching and copying down each dataset into an Excel file before it could be properly exported and used. In some facilities, they would actually have a separate team or a manager to lessen the burden off radiologists.
This entire process of classifying and exporting datasets for research or evaluation can be streamlined through INFINITT Enterprise Search. How? Well, to create a dataset for AI studies, you must label or tag a specific type of information on each of the images and reports being used. And INFINITT Enterprise Search has this 'tagging' feature, enabling radiologists to easily filter and tag large volumes of images and reports at a one go. These tagged datasets can then be exported in Excel format or integrated into INFINITT Healthcare Platform (vendor neutral archive) for AI research.
INFINITT Enterprise Search can also be used to reach a consensus on certain diagnostic standards within a medical facility. For example, imaging tests like ultrasound for chronic liver diseases tend to be relatively subjective in terms of interpretations. So it's very helpful to be able to come up with a common set of diagnostic standards by collecting and reviewing all relevant ultrasound images from that facility.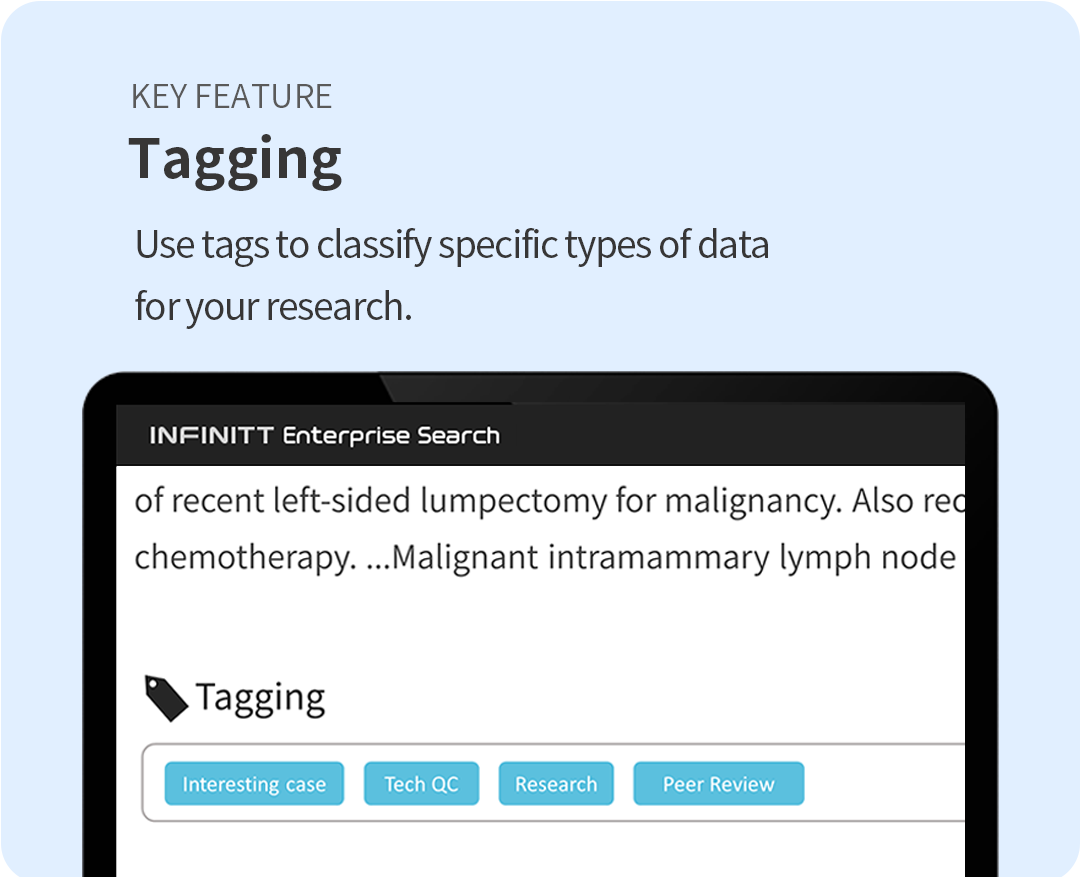 ⑤ High interoperability
Seamlessly switch between
multiple information systems
INFINITT Enterprise Search guarantees seamless interface with not only PACS but also EMR, LIS, OCS and any other hospital systems, thus making a wider range of medical data (aside from radiology and pathology results) available for use under various settings.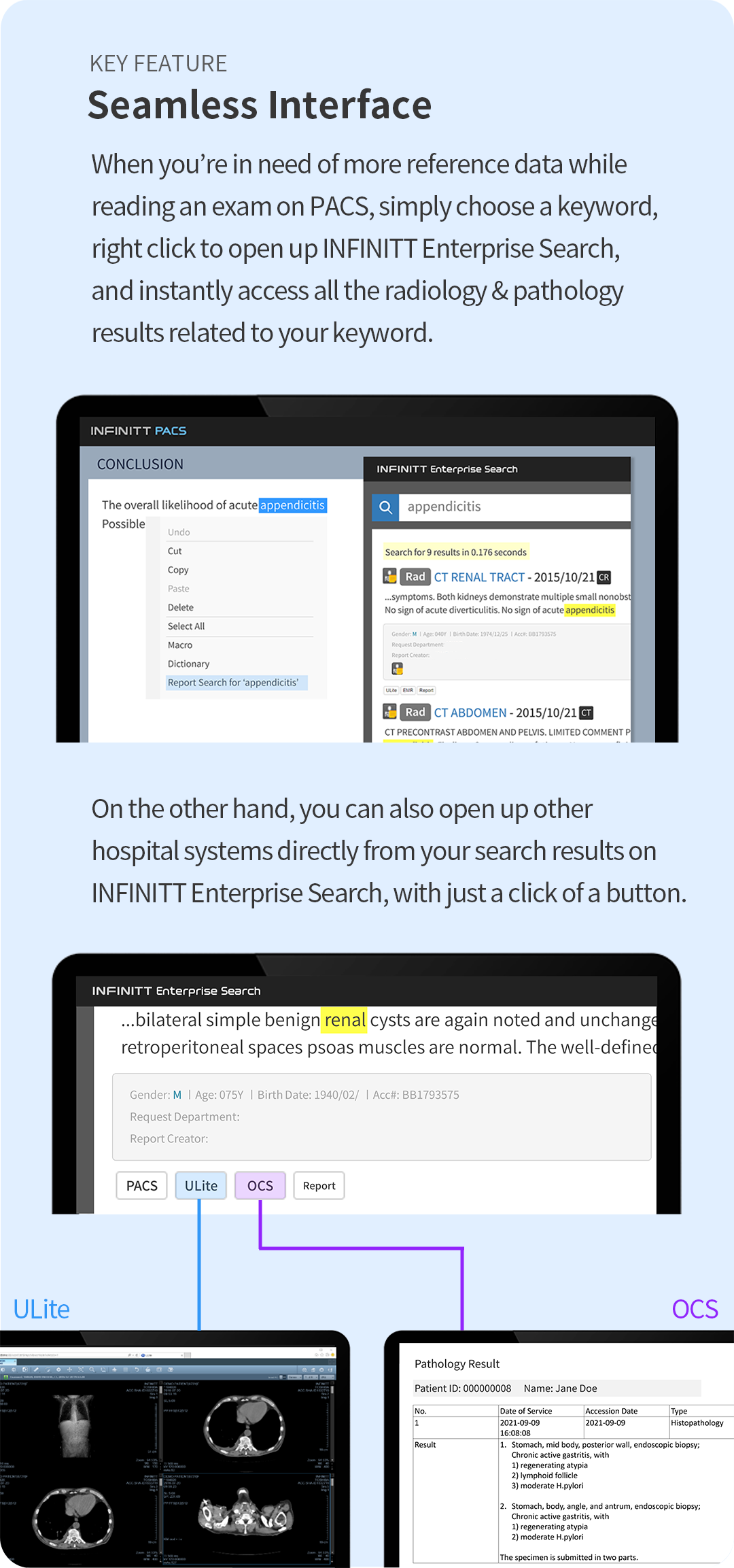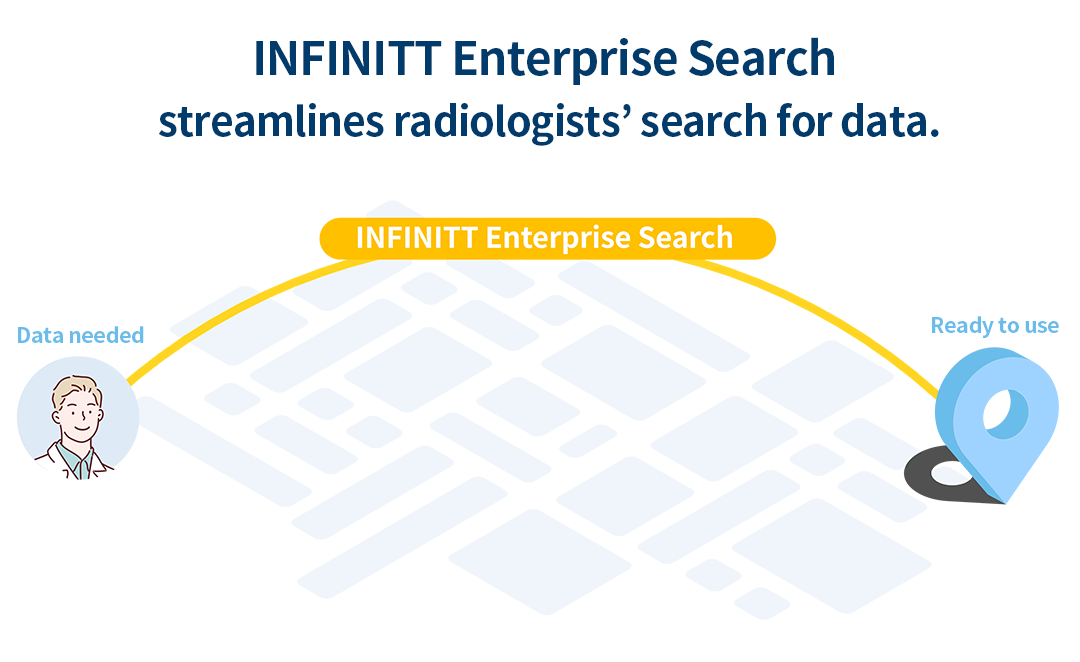 The long and complex process radiologists had to go through in order to refer to certain type of data has finally been streamlined. With INFINITT Enterprise Search, anyone can easily and quickly make use of the accumulated medical big data on a daily basis.
Summary
· There is a growing need for an easier, faster way to access and utilize past exam results as the scope of data use, especially that of radiology data, is consistently expanding. (i.e. diagnostic interpretations, AI research, education, hospital evaluations, etc.)
· INFINITT Enterprise Search is a report search solution that provides radiologists with real-time access to the exact set of radiology & pathology data they need.