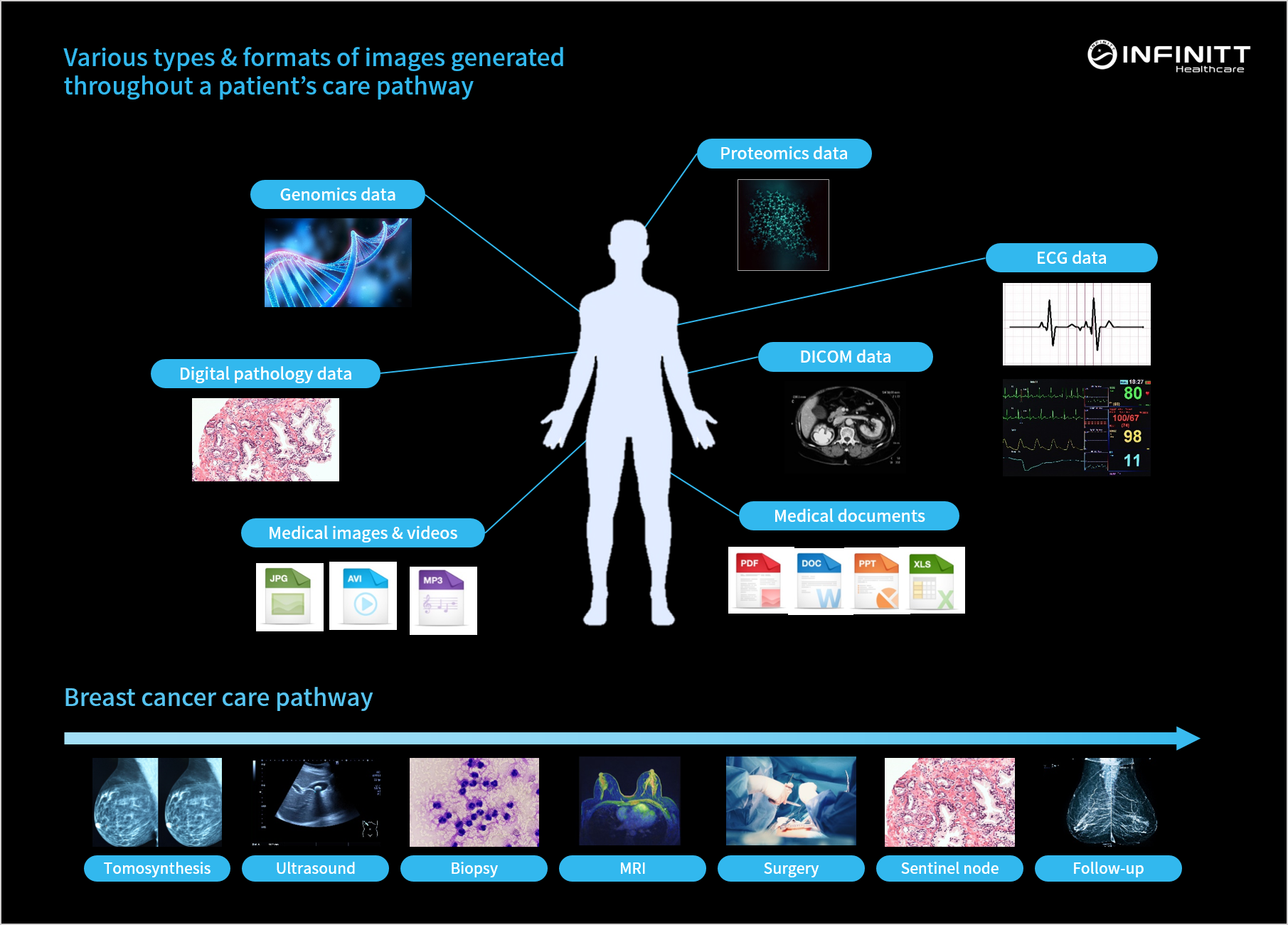 Increasing volumes and varieties of imaging data are created throughout the continuum of patient care. Imagine a patient diagnosed with breast cancer, for example. So many different types of data are produced from each stage of the cancer pathway, including breast tomosynthesis, ultrasound, MRI, biopsy, surgery, sentinel node and follow-up data. To make things more complicated, these data are dividedly stored in different departments and in various formats as well. So is it not only difficult to access and utilize all imaging data in the actual diagnosis and treatment of patients, but also inefficient and costly in terms of data storage and management. And this is where enterprise imaging comes into play. In this product essay, we're going to explore how INFINITT Enterprise Imaging Platform addresses the above issues and what benefits it offers to healthcare providers.
INFINITT Enterprise Imaging Platform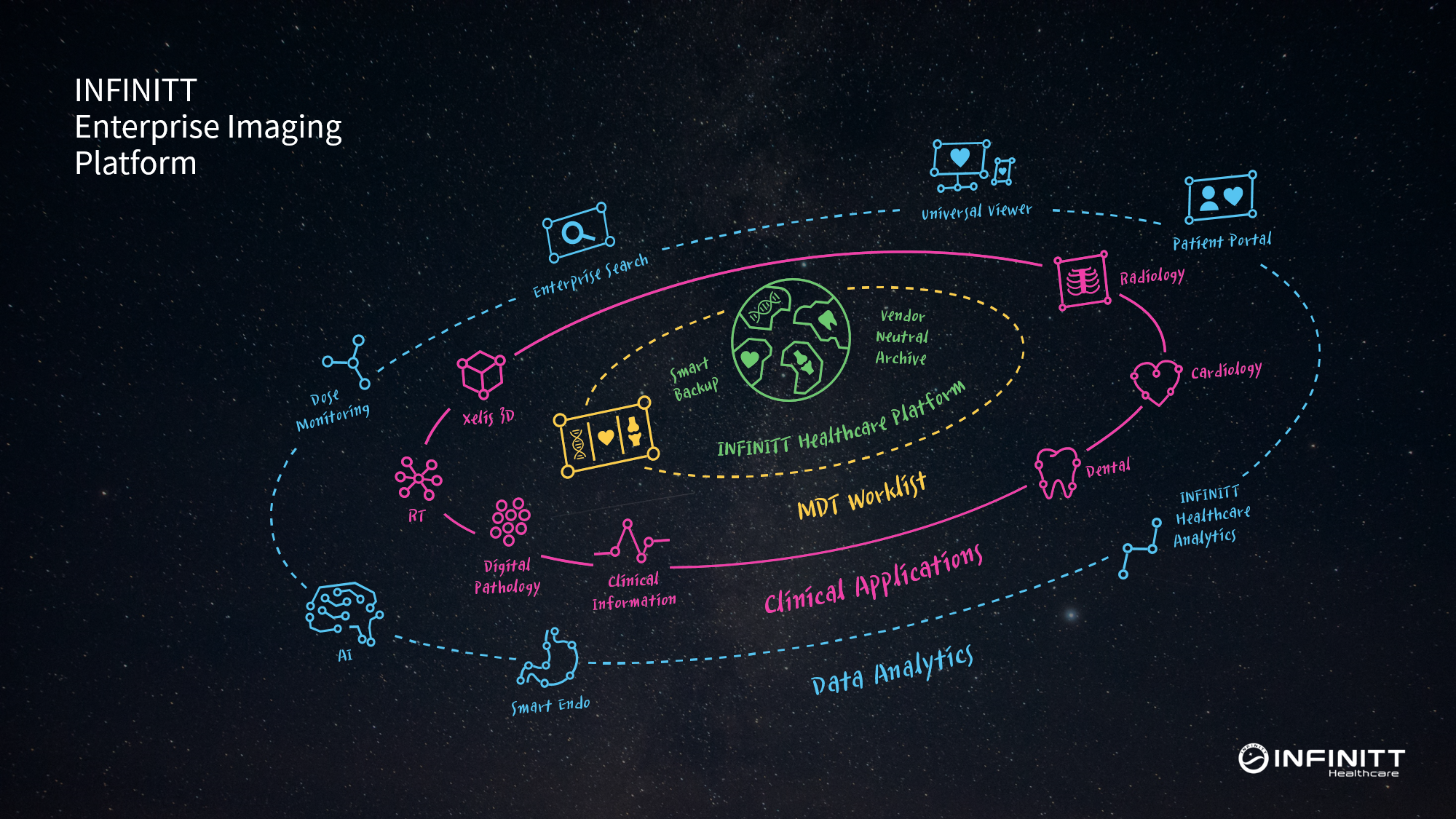 Enterprise imaging refers to an all-in-one imaging strategy for healthcare enterprises which improves overall efficiency of data access and management by integrating all images and data under one system. More specifically, INFINITT Enterprise Imaging Platform lets you capture, store, manage, access, analyze, share and collaborate around all medical data produced throughout the hospital. Just like our solar system is comprised of the Sun, planets, moons and asteroids, INFINITT Enterprise Imaging Platform is an ecosystem on its own consisting of various clinical solutions. Let's take a closer look at each of these solutions to better understand how enterprise imaging actually works.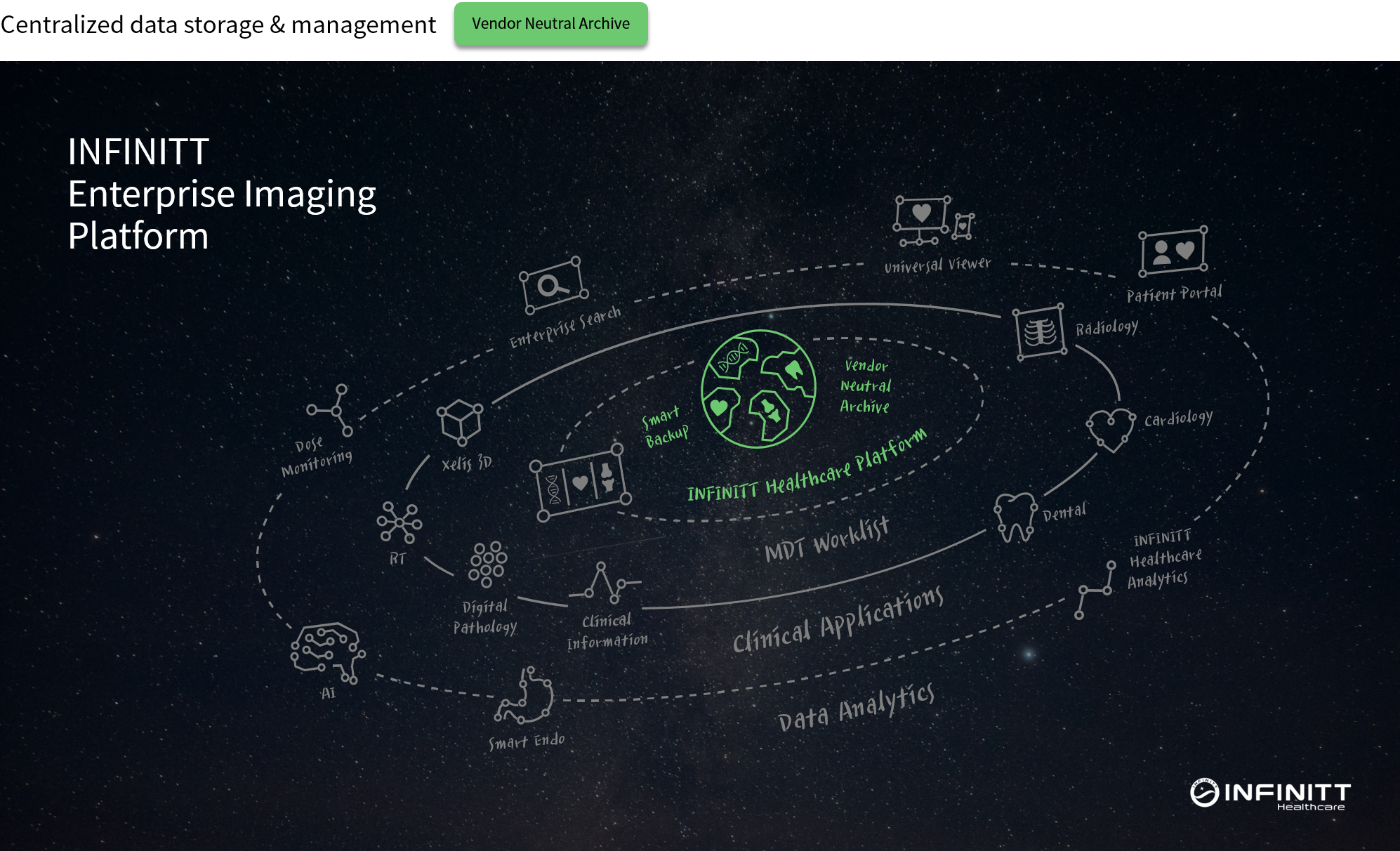 INFINITT Healthcare Platform (IHP) is the core building block of our enterprise imaging system. It integrates all DICOM* and non-DICOM images, videos and documents produced across clinical departments into a single server, regardless of vendor, device or data format. All imaging data is stored in a standard format under a centralized network and can be freely accessed, shared and utilized within the hospital. Also, Information Lifecycle Management (ILM) helps reduce operational costs and improve storage efficiency on an enterprise-level by managing storage according to each data's lifecycle.
*DICOM: Digital Imaging and Communications in Medicine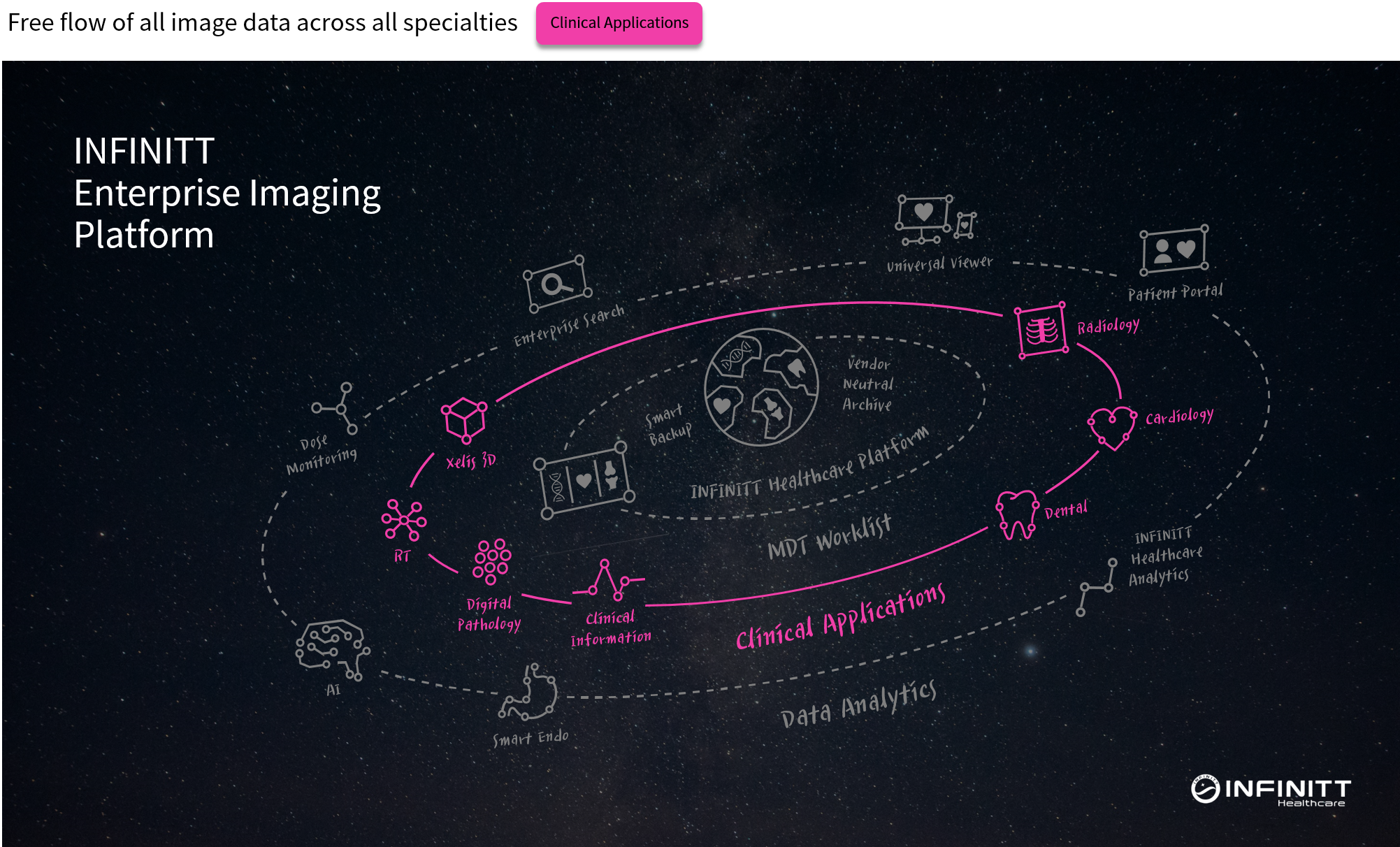 As the Earth and other planets orbit around the Sun, various clinical solutions constitue a network around IHP. And because it's vendor neutral, any departmental solution can be incorporated into our enterprise imaging network through standard interface with IHP. As a result, a patient's imaging data is no longer trapped in silos but instead connected across various clinical specialties, to be accessed and exchanged in real time.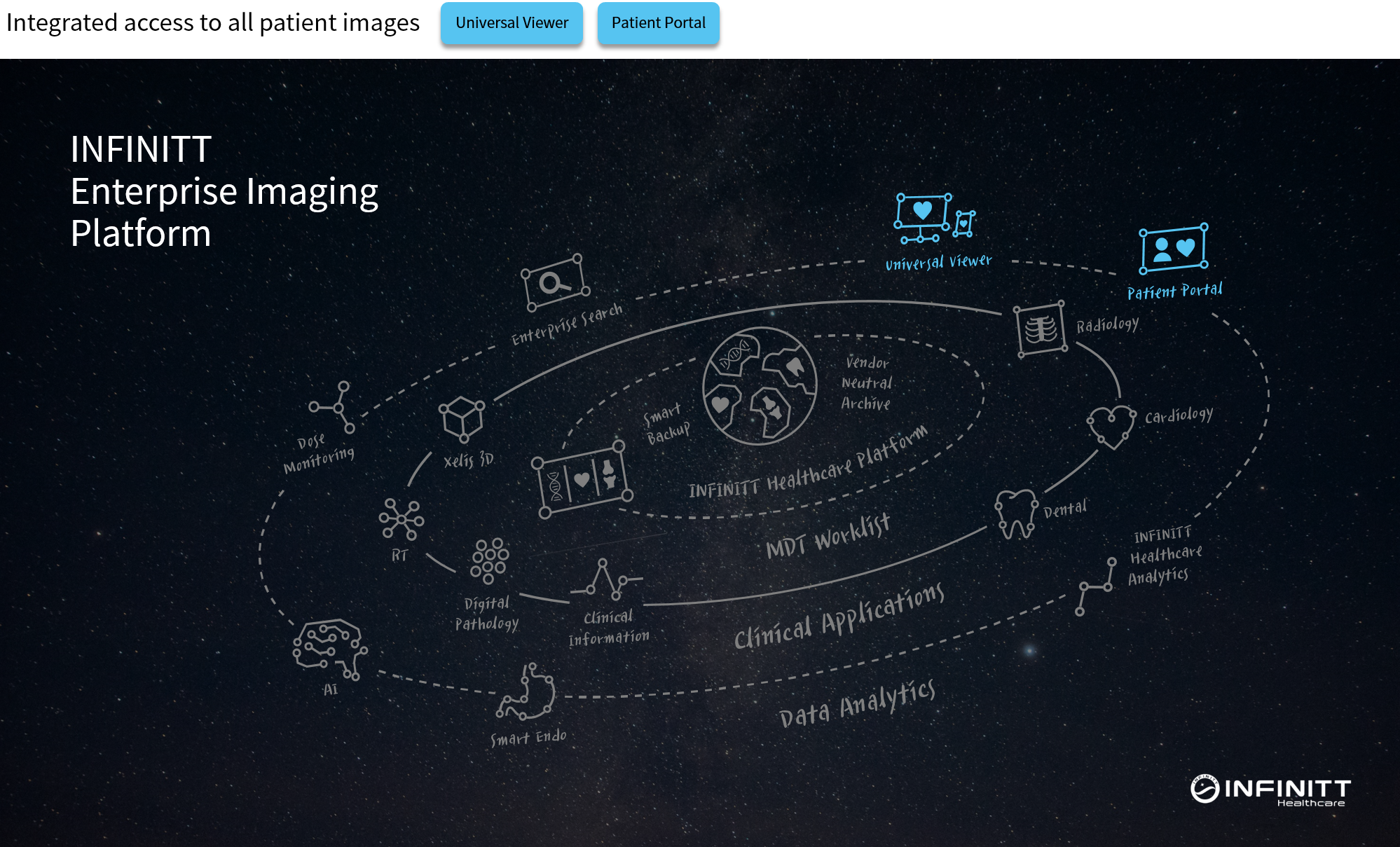 INFINITT Enterprise Imaging Platform provides an integrated access to a complete record of patient data. All imaging data is now available from our universal viewer, INFINITT ULite, to be accessed anytime and from anywhere. Physicians can paint a more complete picture of a patient's situation by referring to the entire record of all the images produced throughout the care pathway—without having to switch between different applications. Giving patients direct access to their own images through INFINITT Patient Portal increases patient engagement and satisfaction as well.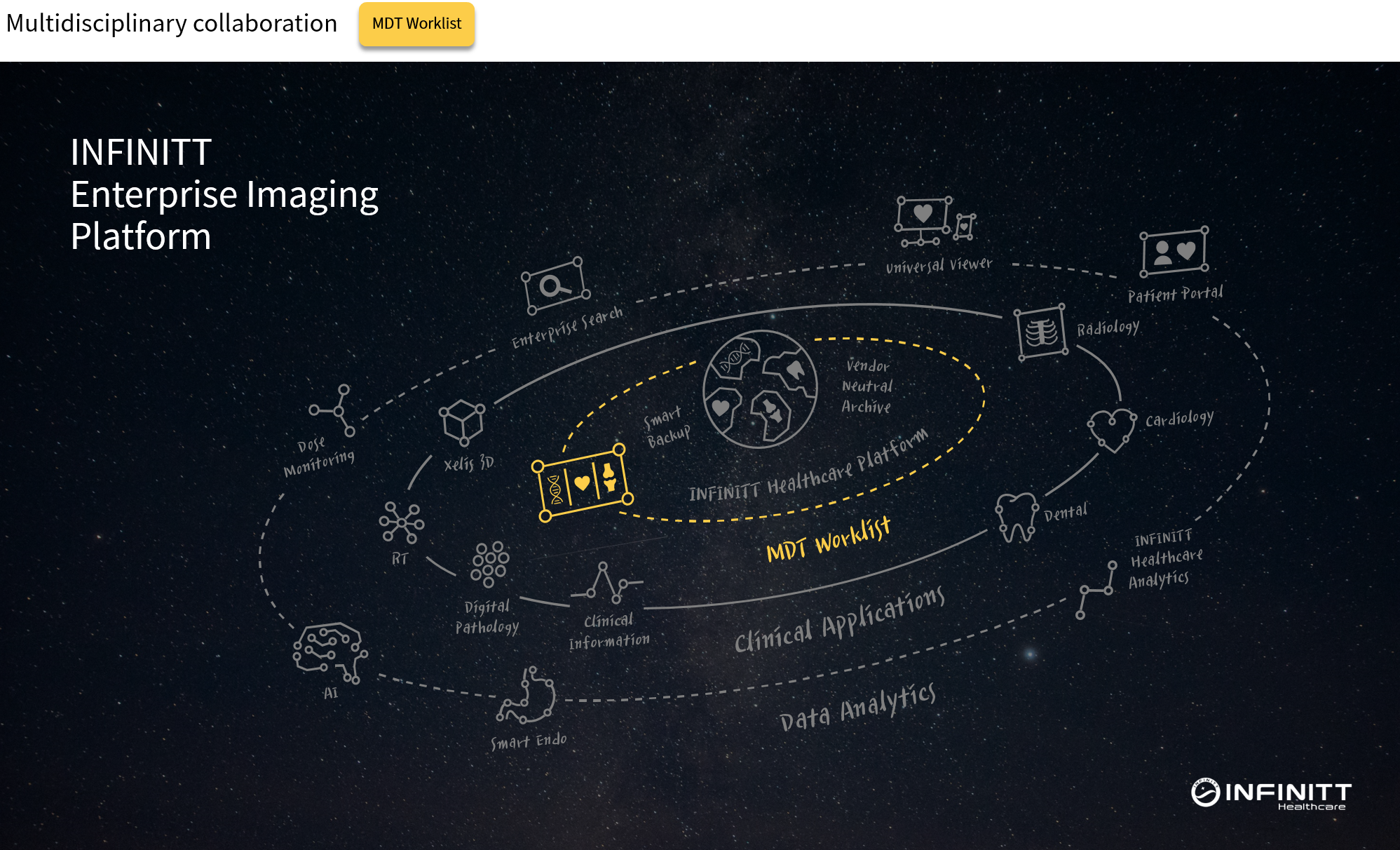 Then, INFINITT Enterprise Imaging Platform facilitates multidisciplinary care. Radiologists, oncologists, pathologists and other physicians come together in multidisciplinary team (MDT) meetings to discuss and determine which treatment plan would work best for an individual patient. Now, they can systematically manage all the cases on a per-patient basis using our MDT Worklist and open up any image during the meeting using our universal viewer ULite. As a result, physicians from across departments can easily discuss and review all relevant data from a single worklist and ultimately deliver better patient outcomes.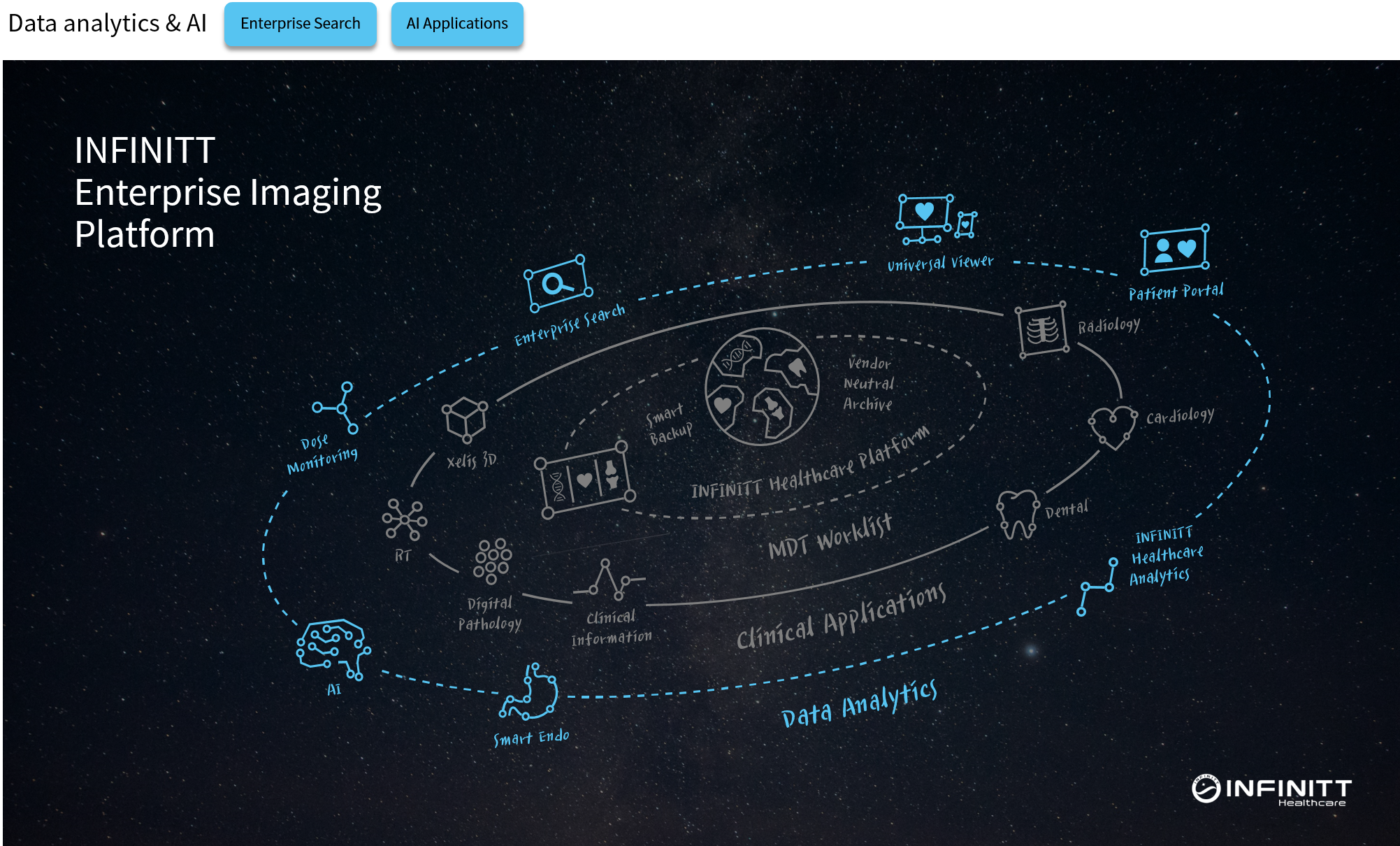 A report search solution called INFINITT Healthcare Analytics - Enterprise Search is also part of our enterprise imaging portfolio. It enables radiologists and other physicians to look up past radiology and pathology reports as if they're googling them in real time. They can read exams more accurately by referring to similar cases from the past.
Our expanding pool of AI-enabled clinical tools are also available on our enterprise imaging platform. Artificial intelligence is a powerful tool, but only if it's seamlessly integrated into the diagnostics workflow. So our AI applications are directly interfaced to each departmental solution and can be easily accessed and utilized on a daily basis for enhanced diagnostic accuracy. For example, you can detect, measure and track growth of pulmonary nodules in a lung CT scan using one of our AI applications.
And because all departmental data are integrated under a single platform, hospitals can make use of big data analytics as well. It basically opens up a myriad of medical big data and makes it available for physicians to utilize in patient diagnosis and treatment, teaching and even research.
Benefits of adopting enterprise imaging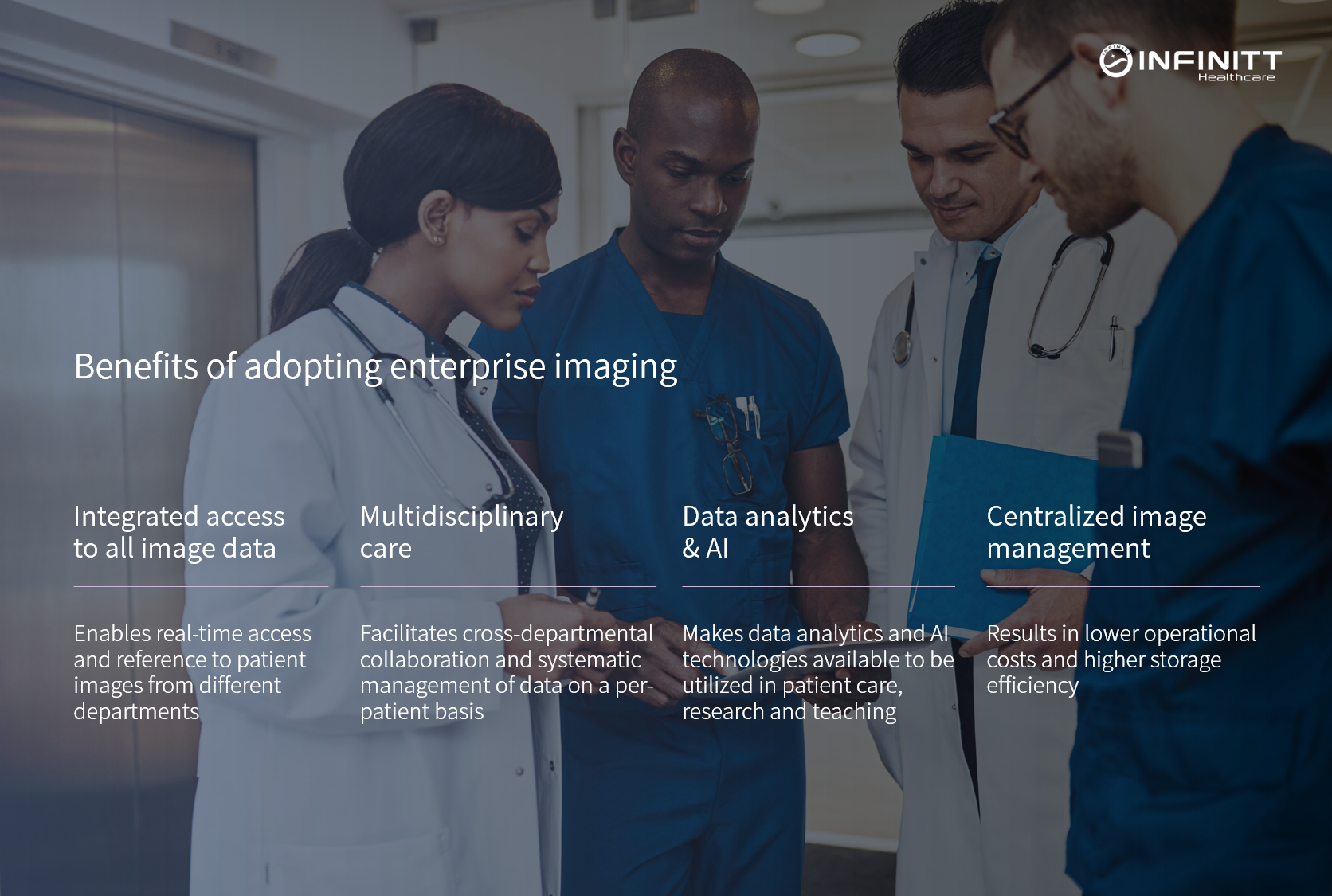 There are many benefits to adopting enterprise imaging, for both physicians and hospital administrators. First, integrated access to all imaging data means physicians don't have to open up several different viewers to refer to images from other specialties while reading exams or making diagnosis. Each physician can access, make use of, share and collaborate around images much more easily and efficiently than before. Secondly, multidisciplinary practices strengthen cross-departmental collaboration and patient-centered care. Physicians participating in MDT meetings gain a more holistic perspective on each patient case, which ultimately leads to better patient outcomes and higher patient satisfaction as well. Furthermore, the rich dataset of imaging big data is now made available to be utilized in not only patient diagnosis and treatment but also teaching and research. And lastly, centralized management of all data means lower operational costs and better storage efficiency.