This essay gives insights on:
• How patient dose is managed in Europe, Japan and Korea
• Why it's important to systematically manage radiation dose
• What INFINITT DoseM offers as a dose management solution
Growing concerns over patient safety
As the focus of the healthcare industry shifts towards patient-centered care, there is a growing emphasis on ensuring and maximizing the safety of patients. In the world of radiology, 'radiation dose management' is an important topic of discussion in terms of patient safety since the total amount of medical radiation exposure has been on the rise over the years. At the same time, more and more patients have been receiving high-dose exams and procedures in the fields of interventional radiology, nuclear medicine and radiation therapy—which altogether lead to growing concerns over radiation protection.
Latest trends and policies on dose management
The International Commission on Radiological Protection (ICRP) guidelines state that all medical exposure to radiation should be based on the principles of justification* and optimization**. Based on these guidelines, national authorities around the world establish their system of radiation protection. In particular, Europe and Japan have been at the forefront of enacting regulatory policies and expanding the scope of radiation dose management. Let's take a look at the details of their policies and how they came to implement such measures.
*Justification: the use of radiation should do more good than harm.
**Optimization: the magnitude of radiation exposure should be kept as low as reasonably achievable (ALARA).
① Europe
The 1986 Chernobyl nuclear accident marked the beginning of radiation protection and led to rapid institutionalization of regulatory measures in Europe. In 2013, the European Union (EU) released the European Directive 2013/59/EURATOM which laid down the basic safety standards for protection against radiation exposure. It came into effect as of February 2018, mandating all EU member states to adopt the standards set out by the Directive into their national legislation.
Details
• The principles of justification and optimization must be taken into account when performing medical radiological procedures.
• The European Diagnostic Reference Levels (DRLs) must be used and regularly reviewed for radiodiagnostic examinations.
• Patients or their representatives must be provided with adequate information on the possible benefits and risks associated with the radiation dose from medical exposure.
• There must be an appropriate system for the record keeping and analysis of events involving accidental or unintended medical exposure.
• A medical physics expert (MPE) must be involved in the adoption of medical radiological equipment and must guide practitioners on the medical use of radiation.
<COUNCIL DIRECTIVE 2013/59/EURATOM> Official Journal of the European Union, 2013.
② Japan
In 2006, Japan was the first country in the world to become a super-aged society. Naturally, a larger proportion of the Japanese population started to go for regular imaging check-ups and showed a growing interest in the idea of preventive medicine. The 2011 Fukushima nuclear accident only amplified to the public concern over the dangers of radiation exposure. These factors added up to bring about active discussions on how they could effectively manage medical exposure to radiation.
Details
• According to the revised reimbursement policies for diagnostic imaging, as of April 2018, qualified healthcare providers* could receive additional 300 incentive points (3,000 JPY, 30 USD) for every CT exam if they keep record of all dose information and make efforts to optimize the dose levels.
• As of April 2020, all healthcare providers must manage and optimize the patient dose from medical exposure.
*Hospitals with more than 400 beds and 6 full-time radiologists who could provide reading services during the day and night, and over holidays.
<Enforcement of ministerial ordinances to partially revise the Medical Law Enforcement Regulations> Ministry of Health, Labor and Welfare, 2019.
While European and Japanese authorities are busy with their efforts to optimize patient dose through various regulatory policies and measures, the situation looks a little different back in Korea where there aren't any legal regulations in effect yet. However, there is a growing awareness over the dangers of the increasing medical exposure to radiation. Governmental authorities and members of the medical community are raising the need for a system of managing and optimizing dose levels.
③ Korea
According to a study conducted by the Korea Disease Control and Prevention Agency in 2020, the total number of medical radiation use from 2019 was approx. 374 million, which was a 20% increase from the 312 million from 2016. It turned out that the number has been increasing by 6.2% each year. In addition, the entire population's collective effective dose has reached 125,000 man·Sv in 2019, which showed a 25% increase from 101,000 man·Sv in 2016.
<Assessment of Radiation Exposure of Korean Population by Medical Radiation> Korea Disease Control and Prevention Agency, 2020.
Details
• The Korea Disease Control and Prevention Agency are conducting activities to reduce the level of medical radiation exposure by providing justification guidelines for medical imaging and developing assessment programs for medical procedures using radiation.
• Last year, the 21st National Assembly Research Service stated just before the parliamentary audit that there is a need to establish a legal basis for healthcare providers to record and manage the level of patient radiation exposure. They even proposed the possibilities of revising the 'Article 37 of the Medical Act' and the 'Rules on Safety Management of Diagnostic Radiation Emitting Generators' and developing a real-time dose monitoring program based on the Drug Utilization Review (DUR).
<2020 Parliamentary Audit Analysis Report Vol.9> Health and Welfare Committee•Gender Equality and Family Committee, National Assembly Research Service, 2020.
Dose management is the next step forward
Large and small industrial changes including the paradigm shift towards patient-centered care, the growing concerns over patient safety, the increasing levels of patient dose exposure worldwide and the implementation of major dose management policies and regulations in Europe and Japan have all added up to create this huge wave of 'radiation dose management.' Now, proper management of patient dose has become a new competitive edge for healthcare providers in terms of higher quality care and higher level of patient trust.
There is a growing number of healthcare providers in Korea attempting to optimize the level of patient exposure to radiation dose through proper management. However, many facilities are experiencing difficulties with the variety of radiological exams, devices, protocols and all the different variables to take into consideration in the process.
A dedicated dose manager,
INFINITT DoseM
INFINITT Healthcare's dose management solution, INFINITT DoseM, enables healthcare providers to take a systematic, data-driven approach to dose management. By integrating, calculating and processing the dose data acquired from various radiological devices, INFINITT DoseM helps its users to derive and utilize insights from these data for managing dose levels.
Now let's delve deeper into how INFINITT DoseM works to guide and support healthcare providers with regards to ① integrated dose management ② risk management and ③ research data platform.
① Integrated dose management
With INFINITT DoseM, healthcare providers can optimize patient dose exposure while still maintaining the image quality required for accurate diagnosis. They can easily compare and analyze patient dose levels on INFINITT DoseM which automatically collects all types of dose and protocol information from radiological devices and calculates effective dose and absorbed dose for each patient.
KEY FEATURE
Integrated Dashboard
INFINITT DoseM provides an integrated dashboard which can be used to manage and keep track of all dose data generated within a facility at a glance. Users can use the dashboard to stay updated on the total number of exams performed and to analyze the causes behind certain high-dose exams. Also using the Favorite Folder feature on the dashboard, they can even monitor the dosage trends of a specific device or compare dose levels from different institutions, devices, etc. These insights would then be used to improve the management of devices, exam protocols and staff education.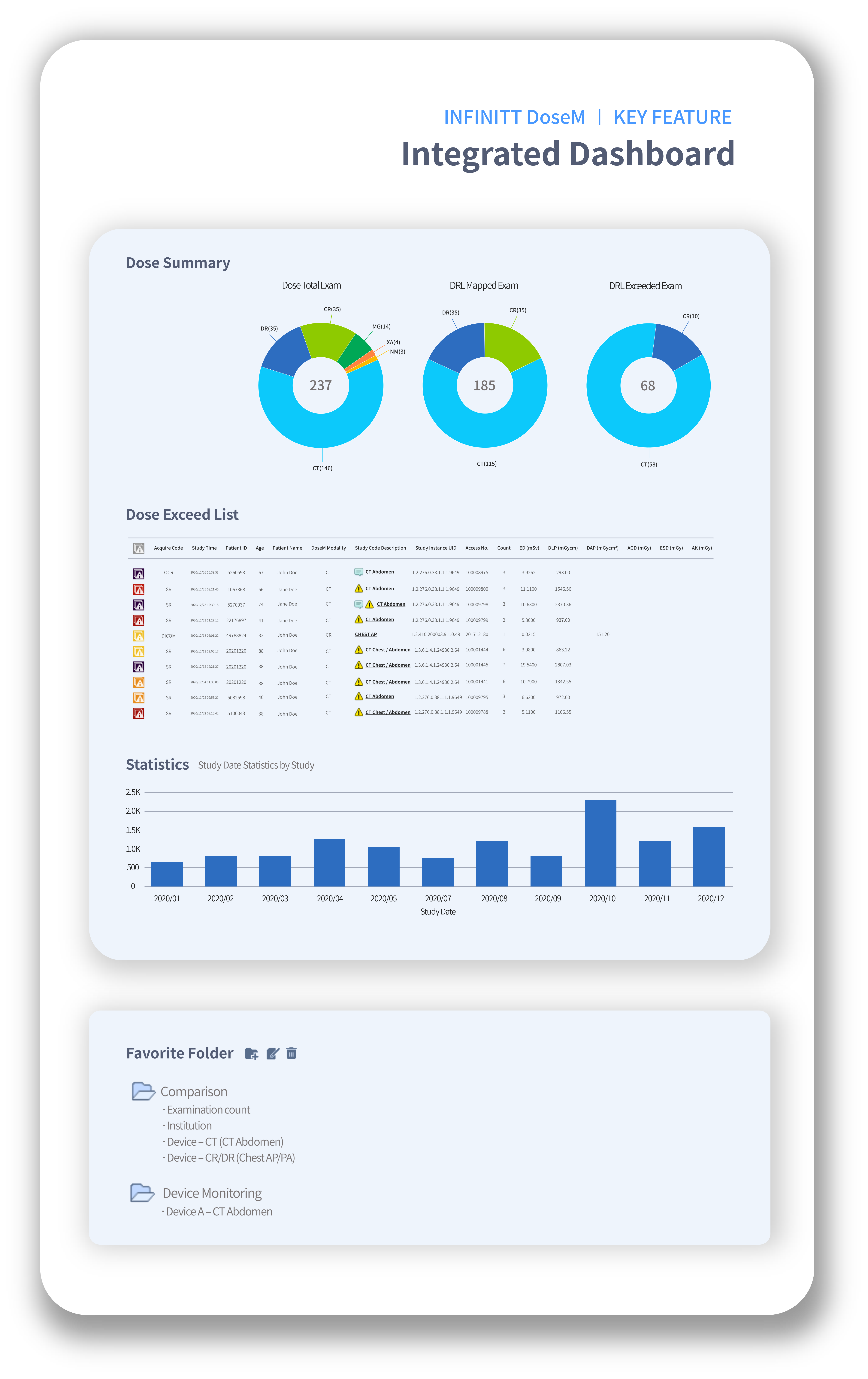 ② Risk management
Regardless of the amount of radiation dose involved, healthcare providers must be prepared for any kind of risks that may result from use of medical radiation. For example in the Korean medical law regulates safety management of all diagnostic radiation generating devices in efforts to protect the patients and the medical staff from possible dangers of radiation exposure*. The safety officer at a medical facility is obligated to take the right safety measures in the management of all radiological devices and to conduct regular safety sessions with their staff members as well.
*Regulations on Safety Management of Diagnostic Radiation Generating Devices, Ministry of Health and Welfare.
INFINITT DoseM enables healthcare providers to perform QA (Quality Assurance) and QC (Quality Control) based on accurate detection of devices with unusually high dose levels. They can track down which device or protocol causes overdose exams and make the right adjustments to prevent potential safety accidents in advance by fixing any technical errors, defects and human errors.
KEY FEATURE
Dose Trigger
INFINITT DoseM offers a feature called Dose Trigger which monitors and records any cases where a radiological device or an exam exceeds the preconfigured dose levels. Users can use Dose Trigger to identify the device causing excessive radiation, find out the reason behind it and make the appropriate changes to device protocols or perform QA/QC accordingly. The resulting changes in dose levels for specific devices can then be monitored on the dashboard.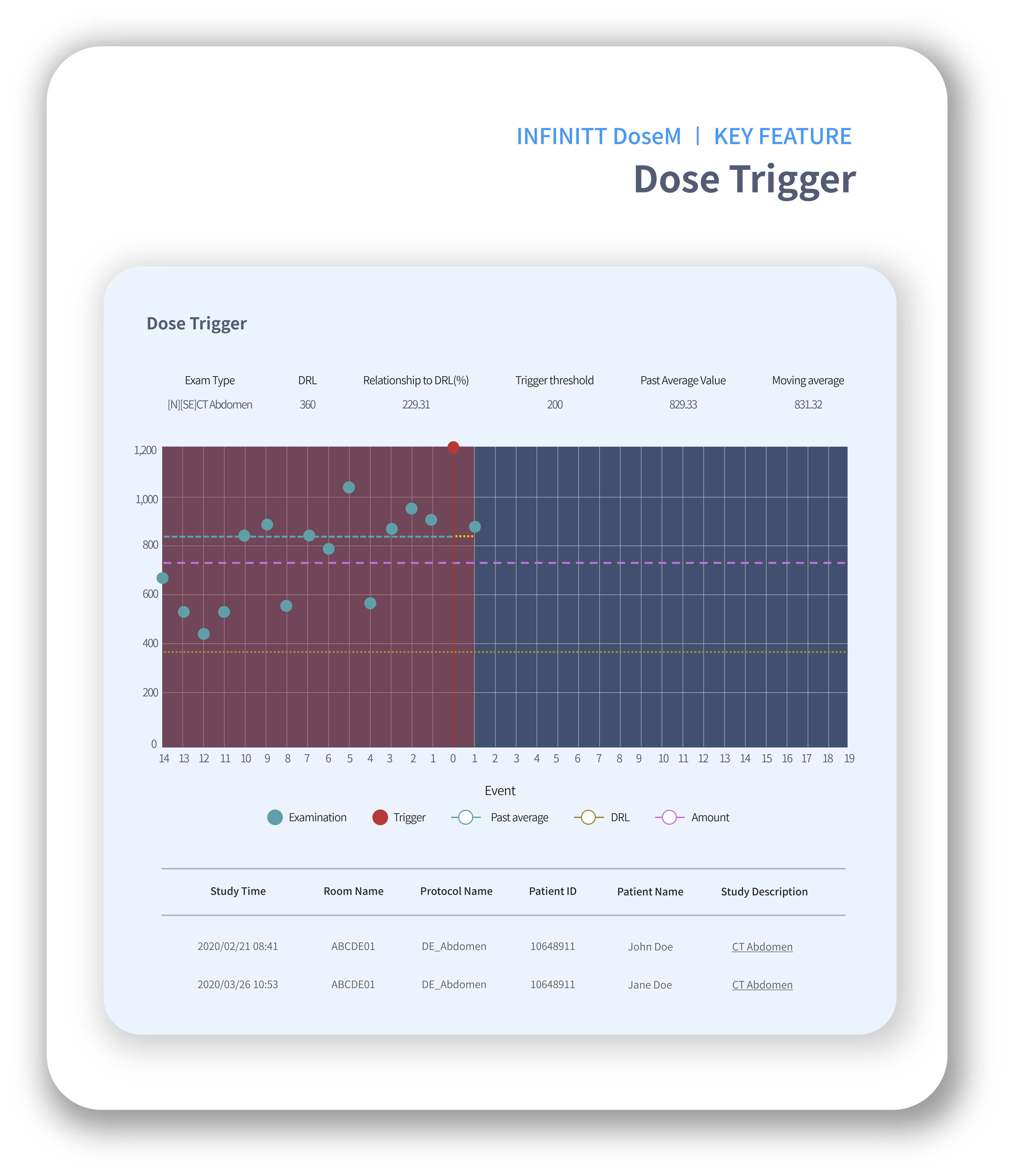 ③ Research data platform
As the medical community's interest in dose management increases, related studies and research projects are also on the rise. National authorities collect and analyze dose data in order to establish diagnostic reference level (DRL) standards while healthcare providers conduct studies on the correlation between patient dose levels and the device's imaging parameters for clinical applications. In that sense, INFINITT DoseM is an excellent research data platform with its custom statistics, data processing and simulation features.
KEY FEATURE
Dose Distribution & CT Simulation
INFINITT DoseM goes far beyond simple management and directs towards dose optimization through statistical analysis of dose data. Users can obtain dose data from either single or multiple medical facilities and establish or update their local DRLs (75th percentile mark) based on the acquired data.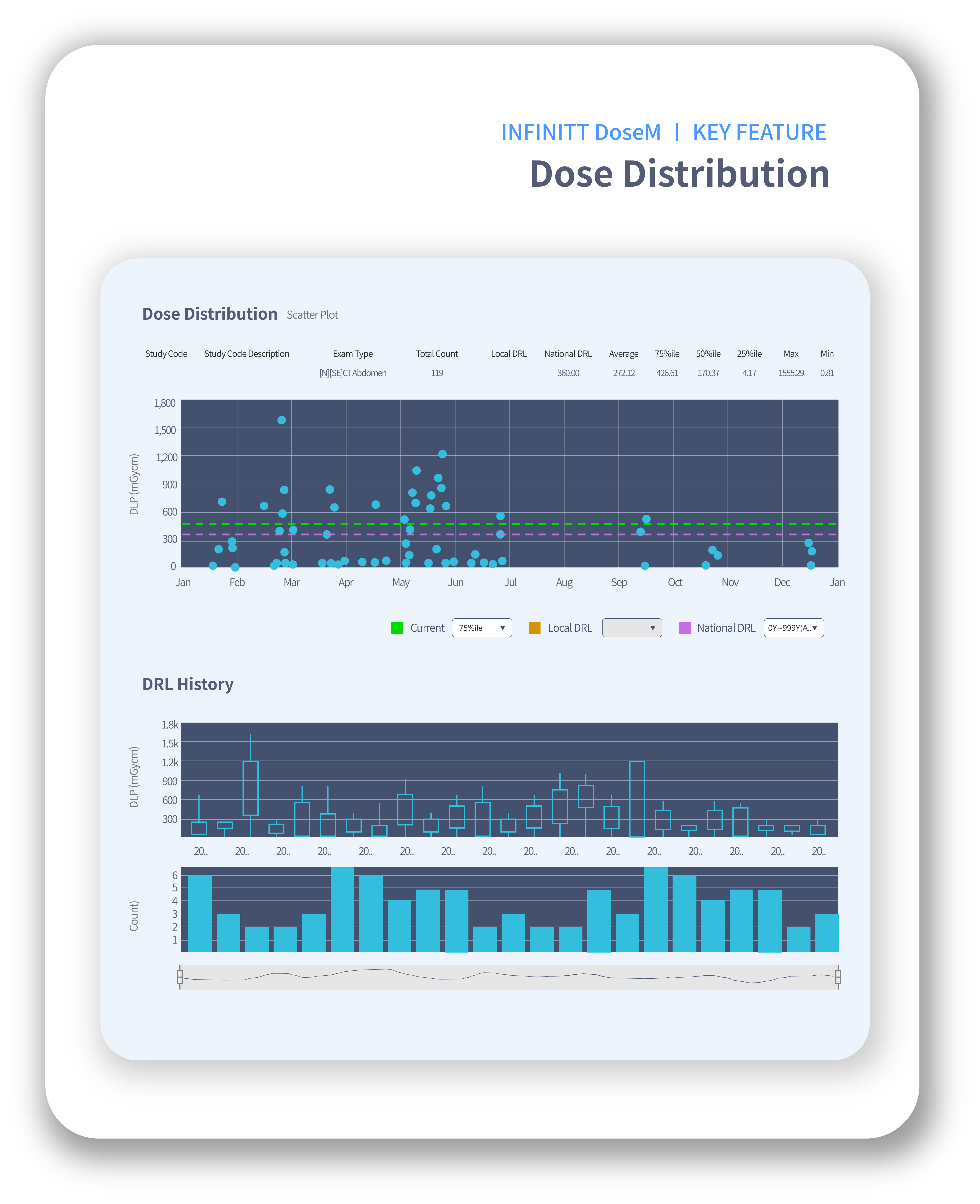 In addition, they can use the CT Simulation feature to simulate patient dose levels in correlation with the changes in imaging parameters. Through continued application of dose data in various research cases, healthcare providers will one day be able to achieve dose optimization according to the principles of ALARA (As Low As Reasonably Achievable).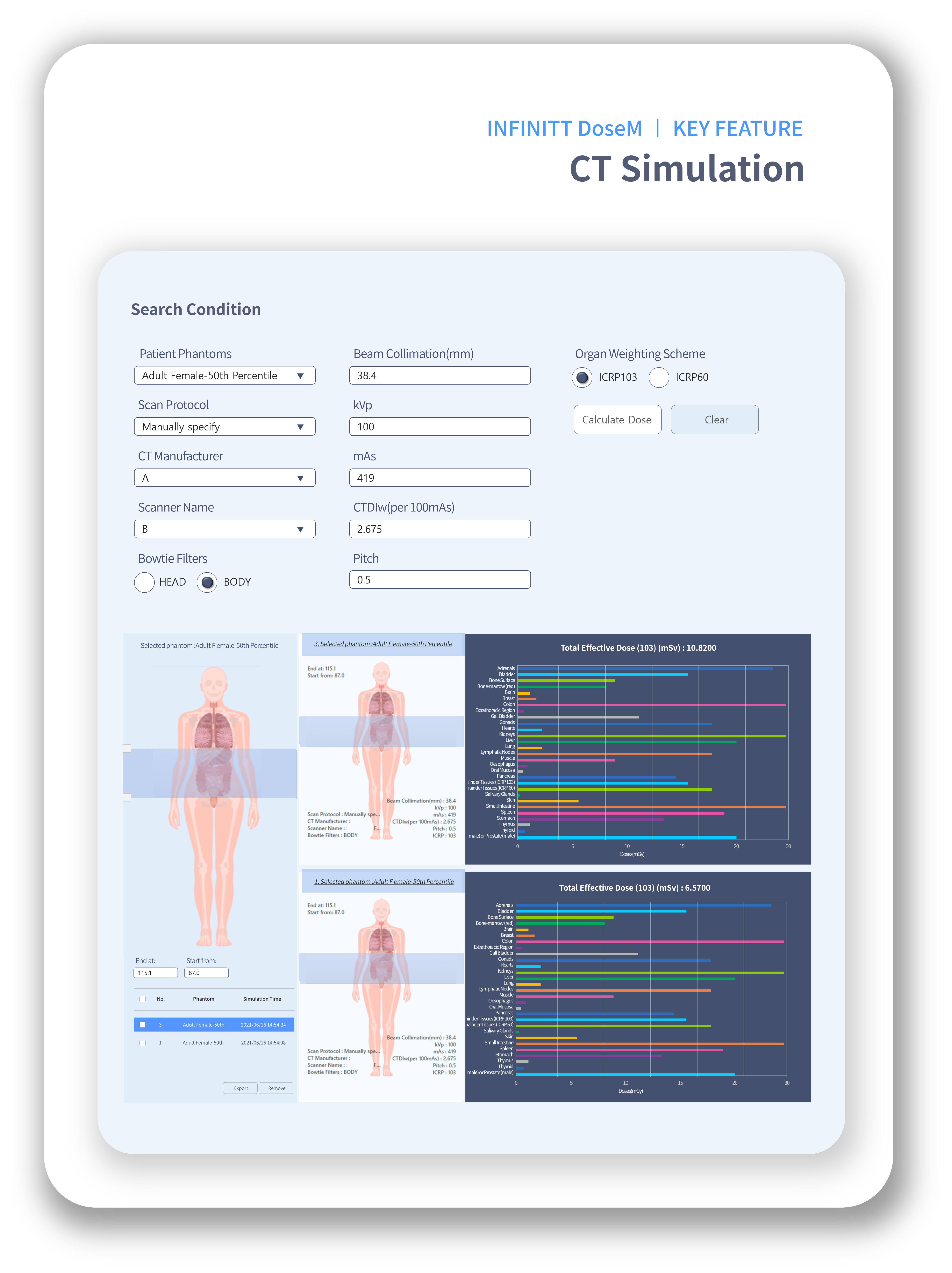 Why INFINITT DoseM?
Seamless integration with the existing workflow
INFINITT DoseM provides seamless interface with various kinds of medical information systems including PACS, RIS and EMR, based on global standards such as DICOM, IHE, HIPAA and HL7. When used hand in hand with INFINITT PACS, INFINITT DoseM can extract the dose data directly from the PACS DICOM images, minimizing network traffic and reducing storage costs as a result.
Web-based solution
Being a web-based solution that does not require any installation, INFINITT DoseM can be easily accessed from mobile devices.
Patient reports
INFINITT DoseM also provides patient reports which offers patients with sufficient information on their own exposure levels.
Contrast medium & nuclear medicine information
INFINITT DoseM enables its users to manage and keep track of all nuclear medicine information including isotopes, half-life intervals, activity, contrast agents used in CT exams, etc.
Dose management:
The new competitive edge in healthcare
More than 300 medical facilities around the world have already started to systematically manage and monitor radiation dose using INFINITT DoseM. Stay on top of the game by choosing to take a more systematic, data-driven approach to dose management. INFINITT DoseM is here to guide you.
Summary
• Major dose management policies and regulations are being strongly enforced in Japan and European countries, and the overall awareness of its importance is on the rise in Korea as well.
• Systematic management of radiation dose is the new parameter for high quality care and patient trust.
• What INFINITT DoseM offers: ① integrated dose management ② risk management ③ research data platform